SHIPPING:
Openaparty.com is a Canadian company, all prices are in Canadian dollars and ALL orders are shipped from our main warehouse in Southern Ontario, so there is never any duty or extra taxes on any order.
Overnight/Air shipping options may be subject to additional shipping charges.
Oversize items ship with standard shipping, they do not ship by air and may be subject to additional charges if the flat rate shipping option is chosen.
When you check out you will be given a variety of options for shipping all with estimated delivery (EDD) dates. Please pay attention to those dates as it is our best estimate (but not guarantee) of when your order will arrive. If you have purchased wholesale items from our wholesale division they will add one day to the EDD date you get at checkout.

Need your order faster than your checkout EDD? Please call one of our customer service agents on our toll free number 1-855-898-6736. We can often move your order up in the packing schedule to get it to you quicker.
Shipping and Returns:
Orders are shipped from our warehouse in Southern Ontario.
Days indicated on the map are Business Days, Monday to Friday using UPS Standard Shipping.
Map indicates transit days not including order date or delivery date.
At checkout you will receive an estimated delivery date before asking for your credit information, this is the best estimated delivery date.
UPS STANDARD SHIPPING TIMES: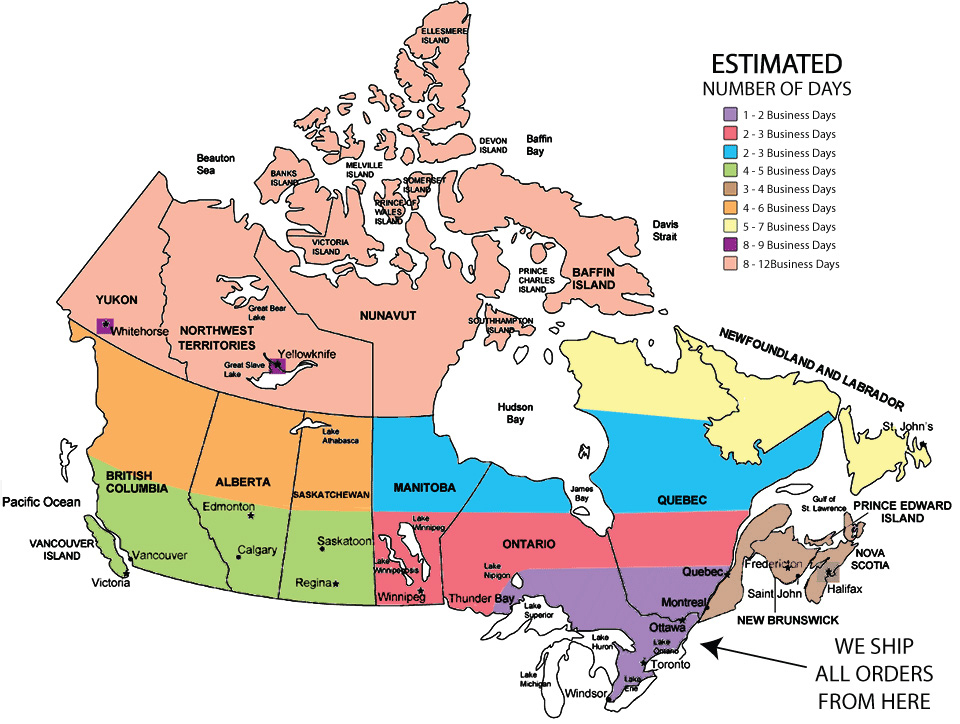 *Open A Party will not be held responsible for parcels that are not deliverable because of an incomplete/incorrect address or parcels that are not picked up in a timely manner and are returned to the Open A Party. Customers will be charged for delivery back to us and charged for the parcel to be resent.
U.S.A. Customers:
Openaparty.com is a Canadian company. We only ship to Canada. All prices are in Canadian dollars and ALL orders are shipped from our main warehouse in Southern Ontario, so there is never any duty or extra taxes on any order.

RETURNS:
RETURN POLICY:
If you are not happy with your order we are happy to take back any item that qualifies for a full refund. Please send your request for a return to [email protected] and we will give you a return authorization number to send your order/items back to us. No returns without an authorization number will be credited, no refused orders will be credited. All returned merchandise must be in original condition and unopened with original packaging. Shipping charges are not refundable and if you received flat fee shipping the actual cost of shipping will be applied to full order returns. Customer is responsible to pay return shipping charges.
All returns are credited to your original form of payment. Request for returns must be made within 7 days of receipt of order and must be shipped back to us within 2 business days of receiving the Return Authorization Number.
Missing Items:
We check your order twice by humans and also computer scan your order items into your box to make sure it is a match before it is sealed. If you think you are missing an item please email us at [email protected] and provide the detail of your order number and the item that is missing. We will immediately match this with our scan and if we are at fault, we will either refund the missing item or send out the missing item immediately. Customers are to notify the company of errors and omissions within 48 hours of receiving package.
Damaged Items:
We are happy to refund damaged items. If an item in your order is damaged you must let us know within 48 hours of receiving the package by emailing us at [email protected] . Include your order number in the subject line. Please also send an image of the damaged product attached to your email. Once we receive this information we will send you a return shipping label to send it back to us at no cost. When we receive your item back we will refund it in full for you. Items must be returned within 10 business days to receive refund.
*Non Returnable or Cancelable Items:
Personalized items, food/candy items, clearance items and
all wholesale warehouse
items are not returnable, cancelable or refundable upon order. Wholesale warehouse items are identified as such on the individual product pages. Halloween costumes are not returnable after October 15th and hygienic products (such as cosmetics, shoes, socks, tights, face masks, wigs, fake teeth, earrings etc) are never returnable.
What payment methods are accepted?
You can pay for purchases online with VISA, Mastercard, Paypal, Debit and Visa Debit. Open A Party currently uses Paypal Checkout for our payment processing, thus credit card/debit card numbers are never seen by our company.